>>> news_of_the_wild - issue [2.09.20] 
>>> resume_playing 
>>> Bring it back, to basics; you and I, I, I will make it right… 
We are finally back on stage! It's been way too long (anything longer than 2 weeks is way too long); and well, it was an experience. 
Those that have been following us Strays (you wonderful stalkers you), might know that right before Christmas, our bass player did a disappearing act. Literally. He was hosting a magic show and the trick may have gone wrong… That or we are terrible at taking hints. But alas, he was gone and that left us with a bit of an issue. 
Our fill in bass player, Jake, had to return to Army duties and that left us with a decision to make. If we can't find a bass player for the next show(s) then what do we do? 
Well it's obvious really, we still do the show. We are The Wild Strays. We ALWAYS do the show. 
And well… Here it is! (Some of it anyway)
Now this video was completely unexpected, so we can't thank Bryan Spink enough for his work for all the bands that night. 
Eagle eyed views may notice a certain Stray swapping between instruments. Now am I just indecisive or was I going for my 'Platinum Trophy'. But more on that next week, for now, we hope you enjoy the footage! 
Make sure to keep an eye out on Tuesday, I think KT will be doing a Behind The Strays docublog (Is that a thing?); only on wildstrays.com!
>>> And on Thursday and Friday and Saturday; We chilled on Sunday… 
Some of you may be thinking: when is our next gig? Well we got you covered. Over on our FB page, you can now view a video game inspired animated gig calendar. It's updated when required to ensure it's up-to-date! 
This was one of my favourite animations to make, so feel free to let me know what you think. I really need your support to go to my head so I can go on a full blown ego-trip. Many thanks. 
But seriously, we hope you like it. We look forward to doing some more cool stuff for promotions along the way. For now though, we can see what's in store for next weekend…
>>> A warning, to the people, the good and the evil… 
We have TWO Battle of the Bands this week. That means war right? So we hereby recruit you for our temporary Army of Strays. Come down and show your support for us and the live music scene. 
The first battle is in Stoke-on-Trent at The Underground. It's familiar ground so hopefully we can make it a good show. It's part of the Metal to the Masses competition. So it's a bit of longshot but with enough support, we could make it to Bloodstock one day.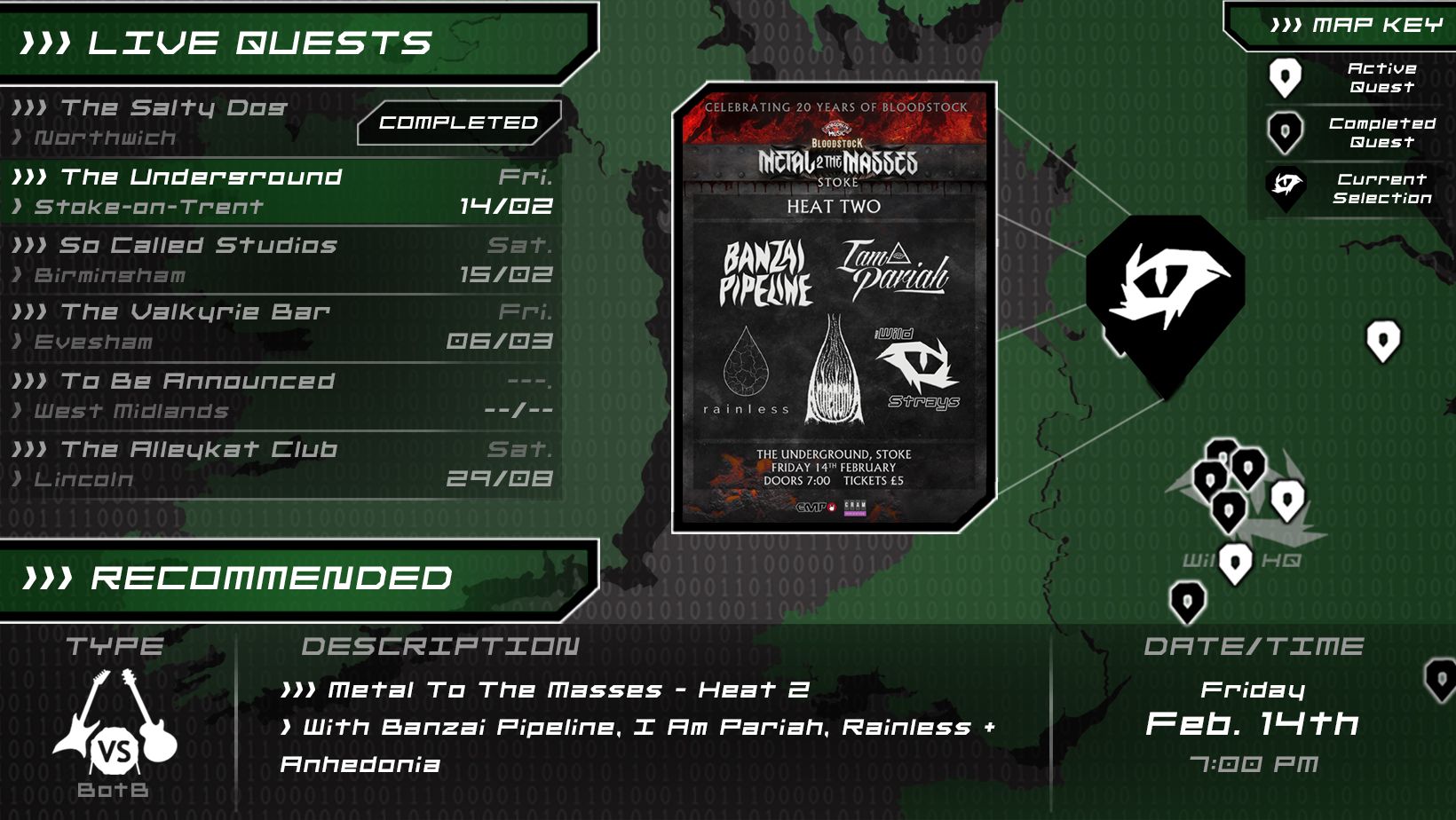 The following day see's us closer to home, with So Called Studios Battle of the Bands hosted in their very own music venue. We are super excited for this as we love the venue. Plus the benefits of us winning could really help progress the band a bit quicker/easier this year. So we'd love for you to come down and support! 
That's enough news for this week! We'll see you on the battlefield!
>>> [ G-Race ] logging_off 
>>> Keep it Wild, Strays!