News of the Wild - Issue #1
Overworld Unlocked
Hey there Strays, so it's that day again for the first time; the first Sunday of News of the Wild, your weekly news update for all things... Wild!
This week is somewhat of a little celebration. Over the past few months we have been able to complete our line up and play a lot of gigs! Four of which have covered the last month alone! But more importantly, we have managed to play a lot of the main venues in Birmingham (That's England, not Alabama... Sorry, we'll get there one day!).
This in itself is quite a big deal for us as a band, especially since every member resides in Staffordshire. Somehow, against all geography, Birmingham has become our musical home and the foundation of our history. Starting with the early practices at Robannas rehearsal rooms/studios, we have now evolved to a point where our metaphorical wings can really be spread.
But before I mention some of our future plans, we would like to take a moment to thank all the bands we have played with over the past few months and all the promoters who have helped us get on stage and let the world find out who we really are. We've been fortunate to have each of our gigs this year at a different venue each time; each bringing it's own unique experience. So it only fitting that all the posters befitting this achievement are mounted on the Wild Strays wall...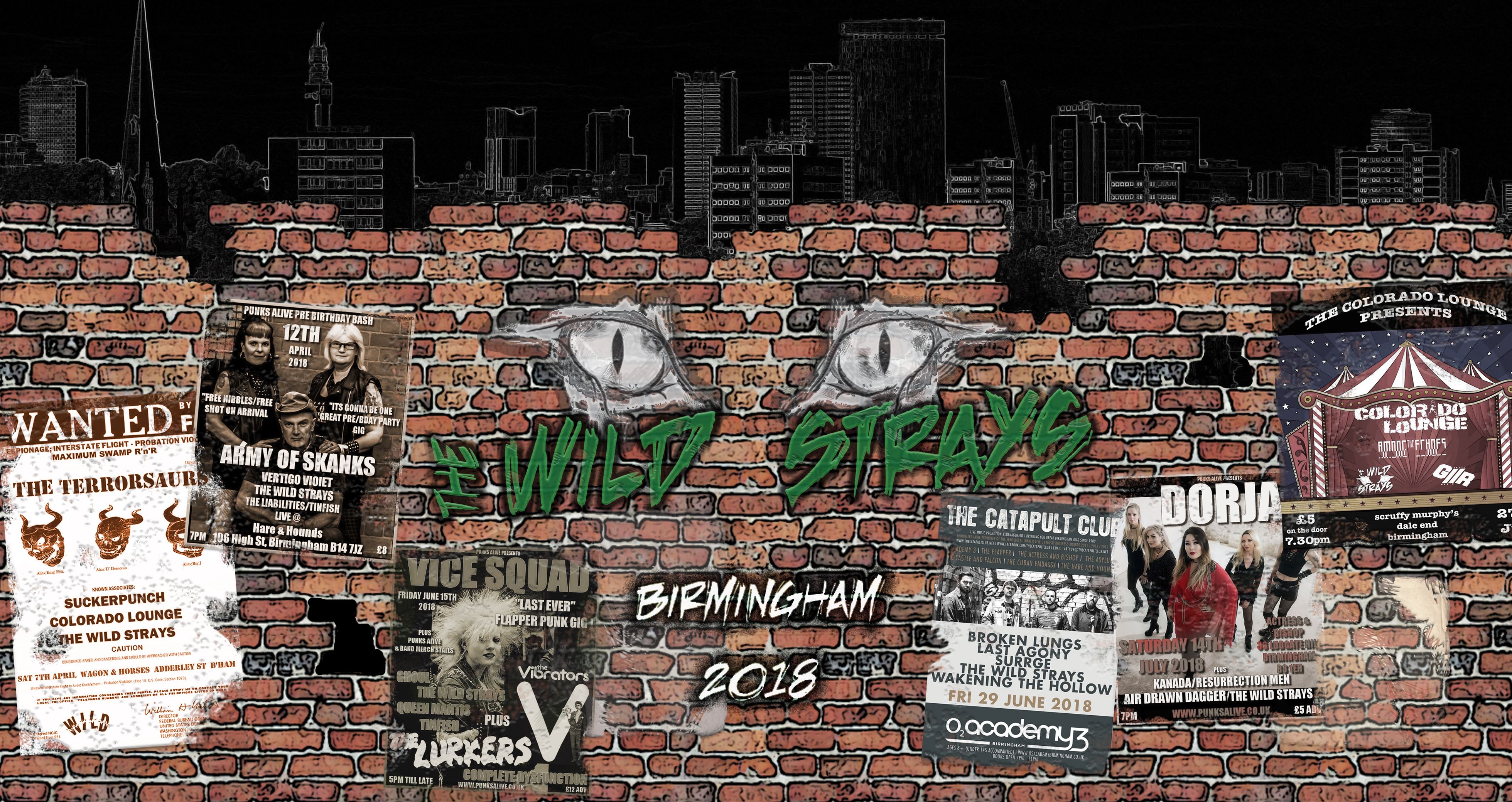 I never said it was a real wall! But we do have some plans for that in the future, all we can say for now is, don't miss our Stadium shows one day in the future!
So with our conquest of Birmingham, what's next? Well, we think it's time we got a bit more music for you to listen to on the other six days of the week we aren't playing!
The Wild Strays EP
That's right, more music to add to your Wild Strays collection. We've been planning this for a while now and we've almost got the recording dates set and a little(more big) something planned for the release. Unfortunately, we don't want to reveal too much too soon!
What you should know, is that there will be less shows from us over the next two months. This is partly so you can recover from the previous shows and prepare your body for the mind blowing-ness of the EP; but also so we can put the time in required to make sure we can bring out something awesome.
That said, we still have a show in Derby this month, along with our hometown party in September! More details of which will be announced soon! We will continue to provide regular updates over the next few months and we have plenty more exciting news to announce as well!
In the mean time, we have plenty more to look at...
Own Personal Tales

Some may already know about this but it's worthy of an official announcement. All Wild Stray band members now have their own page on this very website! You can find each individual member in the sub menu of the 'About' section, where upon you will be treated with a little character profile. On this page, you will find some sort of personal blog from each member; ranging from written journal entries to live videos.
These personal blogs are fairly new and may not yet have officially launched but rest assured that all updates will be announced via our social media channels. This will help ensure you never miss an adventure from any of the bands members!
It's also worth noting that the blogs are a two-way street, so make sure you drop some comments on their and discuss your thoughts with us! We'd love to hear what you think and if you have any ideas yourself of what you would like to see from us. Our hope is that seeing the more personal sides of us can help connect us all, so we can enjoy this wild adventure together!
I think that's all for Today's update, anything we missed will surely be announced in future issues. That said, feel free to drop us a message if there is something you want to know! And don't think we are going anywhere, any time soon. we still have gigs lined up for the Autumn/Winter, making sure that even Birmingham isn't neglected! Until then, we just want to make sure we can bring you some more music that you deserve from us!

 
Thanks for reading, we'll see you soon!
And remember,
Keep it Wild, Strays!